Jackson Halt is a thriller Maithili film directed by Nitin Neera Chandra and produced by Nitu Chandra Srivastava Nitin Neera Chandra.
Maithili movie Jackson Halt trailer
The official trailer of the much-awaited Maithili film "Jackson Halt" is released now on the youtube channel BEJOD. Watch and share if you like it. "Jackson Halt" is a new work for Bihar cinema. Cinema and audio-visual content are very important for language, literature, and culture Nowadays.
Maithili is the richest language in North India and the Tarai area of Nepal but lags behind other major languages ​​in terms of cinema and web content. Still, in the coming time, Maithili cinema will achieve the top position in India and Nepal.
National award-winning film Mithila Makhan writer-director Nitin Chandra and his team have once again brought a thriller film in the Maithili language. The trailer of the film has already been released on youtube.
Producer and Hollywood actress Neetu Chandra Srivastava, actor Ram Bahadur Renu, Nischal Abhishek, dialogue writer Rishi Raj and director Nitin Chandra were present at the launch of the trailer at the Complex Theater on SP Verma Road in Patna.
Producer and actress Neetu Chandra said that the participation of all people is essential in the development of cinema in Bihar. Mainly in the Maithili language
Meanwhile, actors Ram Bahadur Renu and Nischal Abhishek said they are proud to work in their mother tongue. He thanked the producer and director for this. The same dialogue writer Rishi Raj said that the production of such a film in the Maithili language will increase the awareness of the people towards the production of good films.
Jackson Halt release date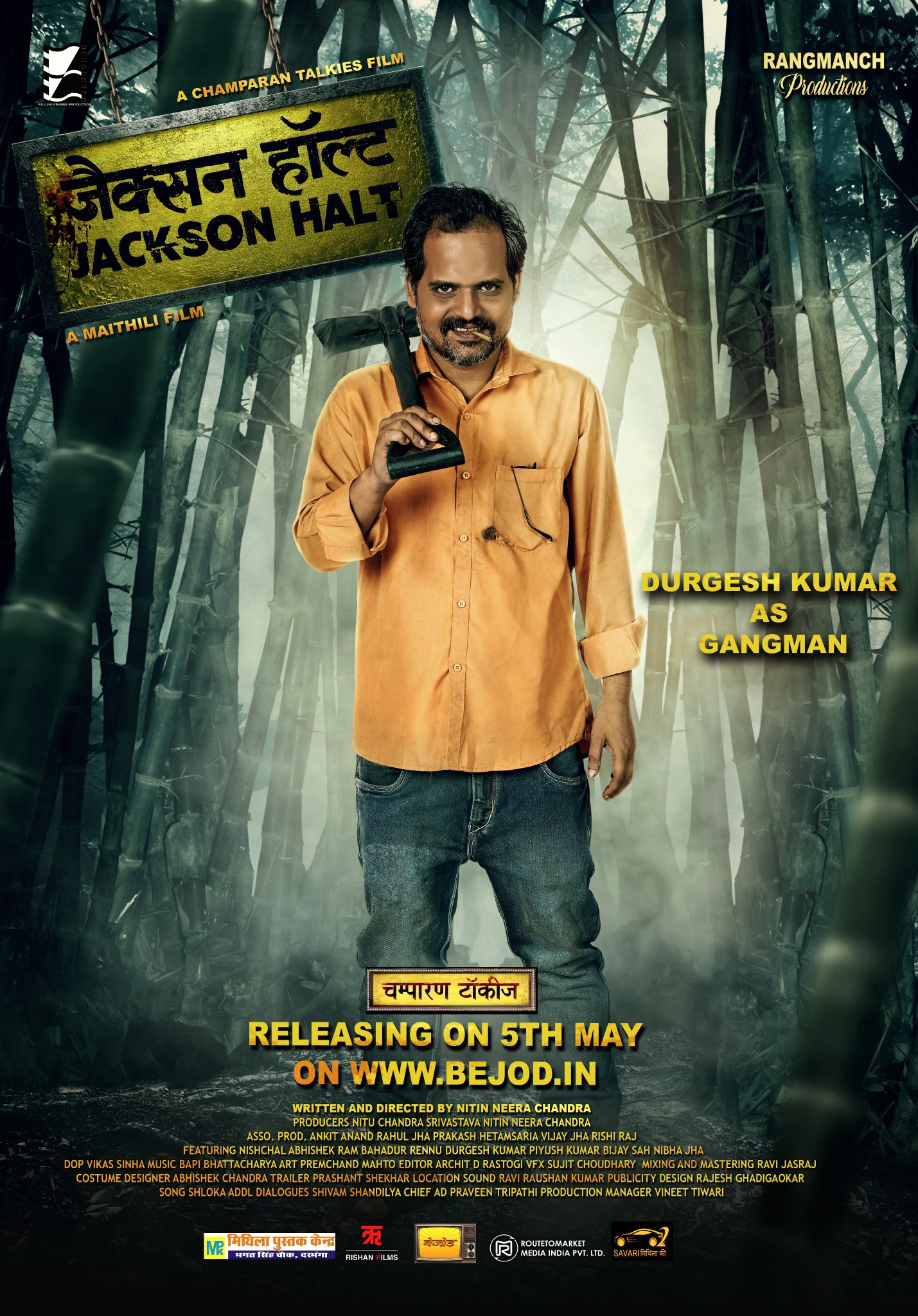 Director Nitin Chandra explained the importance of making the film in the Maithili language. He said that language plays an important role in the development of cinema and also cinema plays a vital role in the development of language. Maithili cinema is representing Bihar on national and international stages today. He said that continuous production of cinema in the state would provide employment opportunities to the youth at the local level. Maithili film Jackson Holt, produced under the banner of Champaran Talkies.
The main thing is when and where the movie will be released. The movie will be released on 5th May 2023 on Bejod.in online Streaming websites. You can rate this movie on IMDB and you can watch Jackson Halt full movie on BEJOD.in
You May also like: The Noon Roti First Maithili web series
Songs In Jackson Halt movie
We don't know how many songs are in this movie because there is not any official statement for songs but one rap song is out now on the youtube channel BEJOD from this movie by official movie makers. The song is sung by popular rapper Shloka and the title of the song is "HE RAU BAUWA".
Jackson Halt Details
| | |
| --- | --- |
| Director | Nitin Neera Chandra |
| Producer | Nitu Chandra Srivastava Nitin Neera Chandra |
| writer | |
| Cast | Rambahadur Rennu, Nishchal Abhishek, Durgesh Kumar, Piyush Kumar, Nibha Jha, Vijay Sah, Shivani Shandilya. |
| DOP | Vikas Sinha |
| Production Designer | Premchand Mahto |
| Music | Bapi Bhattacharya |
| Editor | Archit D Rastogi |
| Asst. Editor | Shantanu Dutt |
| Art Director | Premchand Mahto |
| Art Asst. | Acharya Bhaskar |
| VFX | Sujit Choudhary |
| Additional Dop | Kundan Arya |
| Sound mixing and Recording | Ravi Jasraj |
| Custom Designer | Abhishek Chandra |
| dialogues | Nitin Neera Chandra, Shivam Shandilya, Rishi Raj, Manisha Jha |
| Digital Branding and Promotion | Saurav Mishra |
Is Jackson halt a Hindi movie?
NO, Jackson Halt is a Maithili movie.
Jackson Halt will release in Cinemas or OTT platform?
Jackson Halt will be released on only OTT platforms, not in cinemas.
Where we can watch Jackson halt Movie?
You can watch Jackson Halt's movie on Bejod.in the streaming website.